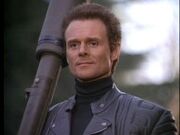 Murdoch is the very first criminal that Macgyver and Pete Thornton chased together (Macgyver wasn't in the Phoenix Foundation yet).
Murdoch is considered Macgyvers arch nemesis. Murdoch also takes photographs of all the crimes he commits.
Ad blocker interference detected!
Wikia is a free-to-use site that makes money from advertising. We have a modified experience for viewers using ad blockers

Wikia is not accessible if you've made further modifications. Remove the custom ad blocker rule(s) and the page will load as expected.